Thank you so much to the team at @menshealthau for including Next Level Clinic in your latest piece on Tattoo Removal Treatment. It was a pleasure to provide our expertise and discuss the incredible Discovery Pico Laser Machine.
Contact Next Level Clinic
Tattoo Removal Sydney by Next Level is located:
Watson House, Level 5
300 George St Sydney 2000
We are conveniently accessible, only a 2 minute walk from Wynyard Train Station, or an 8 minute walk from Town Hall Station.
Please take the lift to Level 10.  Our friendly reception team will assist you from there.
send a media enquiry - contact NLC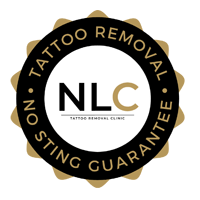 We're so confident in our treatments, clinicians and our world's best laser technology, that qualifying clients who commit to a full tattoo removal package are eligible for our NO STING GUARANTEE. 
Next Level Clinic guarantees that you won't find a better laser tattoo removal service in Sydney. Our unique understanding of the human body, how your lymphatic system works and our pre and post treatments that make your tattoos disappear even faster, takes the sting out of your tattoo removal. During your consultation, your clinician will indicate the number of treatments required to achieve your desired outcome. If your tattoo removal does not achieve the outcomes we agreed at the outset, then you can continue to receive tattoo treatments for FREE for a period of 12 months from date of last treatment.
Ready to remove your tattoo?
We welcome new and repeat clients. Experience the difference with Sydney's very first high-end, luxury tattoo removal specialist.
Great experience, really informative and attentive workers and the set-up of the salon is luxurious and pristine. Definitely gonna continue with my sessions.
Staff are extremely knowledgeable, and professional. I was nervous before getting my treatment, I was walked through all aspects from beginning to end.
Great results, less than expected sessions to remove, no scaring, my skin looks and feels brand new. Exceptional all round!!
like A tattoo removal QUOTE?
We understand that there is no one-size-fits-all approach to achieving your desired results. To tailor a package to suit you, simply submit a photo of the tattoo you wish to remove via our online quote request.
Ready to embark on the most effective and comfortable Tattoo Removal journey?
We have
appointments available
Monday to Saturday in our high-end Tattoo Removal
Sydney Clinic. We are welcoming new clients and cannot wait to share the Next Level difference.
Tattoo Removal questions and enquiries
We are Sydney's first dedicated, luxury Tattoo Removal Clinic and we are thrilled to welcome new clients. Our team of expert Technicians are now available to discuss any queries you may have.